fax: 512- 452-7275

email: txwades@earthlink.net
www.bobwade.com
---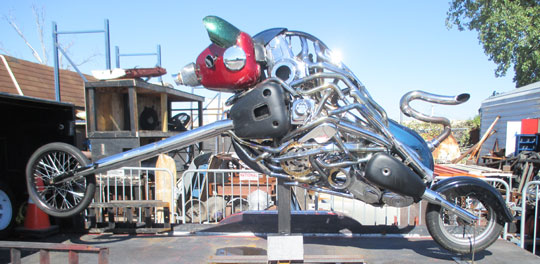 "HOG"
Check Out Bob's Latest...
The Curious Creations of Daddy-O Wade
@ Texas Co-Op Power
---
Check out FLIGHT of the IGUANA (Official Trailer)
Daddy-O's 2014 Documentary. Be a part of history, make a donation
toward the completion of this documentary
on the work and life of Bob "Daddy-O" Wade!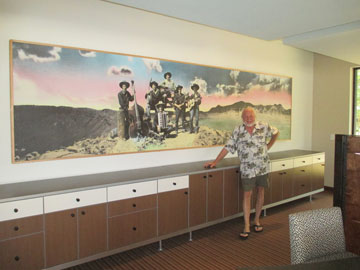 New Work Installed at The 704. 3401 S. Lamar - Austin, Texas
(Click to Enlarge Image)
---
---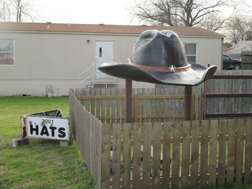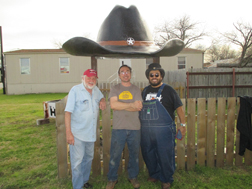 Kelso: Cosmic tale of the travels of Kinky Friedman's campaign...
Giant Iguanas, Record Setting Boots and Six Dancing Frogs: The Art of Bob "Daddy-O" Wade
Check it out in SAN ANTONIO UNCOVERED!
Famous 'TANGO FROGS' Return to Greenville Ave
Dallas: The Return of KITCH; New York Times
John Kelso on the RE-INSTALLATION of Daddy-O's Frog Band
Art & Life; Dallas Morning News (June 2014) TANGO FROGS TO RETURN to Lower Greenville Rooftop
Check Out Daddy-O's Feature on ROAD SIDE AMERICA!
Listen to Daddy-O Wax Poetic with Tom Michael on MARFA PUBLIC RADIO!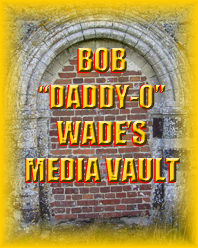 Daddy-O In The News
click here
All Rights Reserved By Bob "Daddy-0" Wade 2000-2014 ©
Panoramic Photo Courtesy of Scott David Gordon