BOB DADDY-O WADE'S MEDIA VAULT
Daddy-O In The News On TexasEscapes.com!
Click here!
---
Daddy-O Makes the Times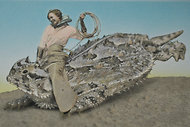 Click Photo
Bob "Daddy-O" Wade's "Neck N Neck," once at home in San Antonio, ...
Artist Bob "Daddy O" Wade poses for a portrait in his home studio in west ...
---
Click HERE to Catch Daddy-O's Fish Tale,
With Real Live Movement and Body Functions!
---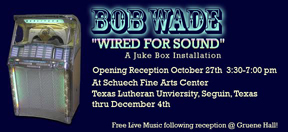 Check Out What People Are Saying about the Daddy-O!
---
Check Out Daddy-O on Bellemeade Books
Click Here
---
The Iguana and It's "Next" Incarnation!
Click on the links below to see Daddy-O's lastest!
Iggy Makes YOU TUBE!
---


Click on image to see Daddy-O's new article in
American West Magazine
---
Return to Home